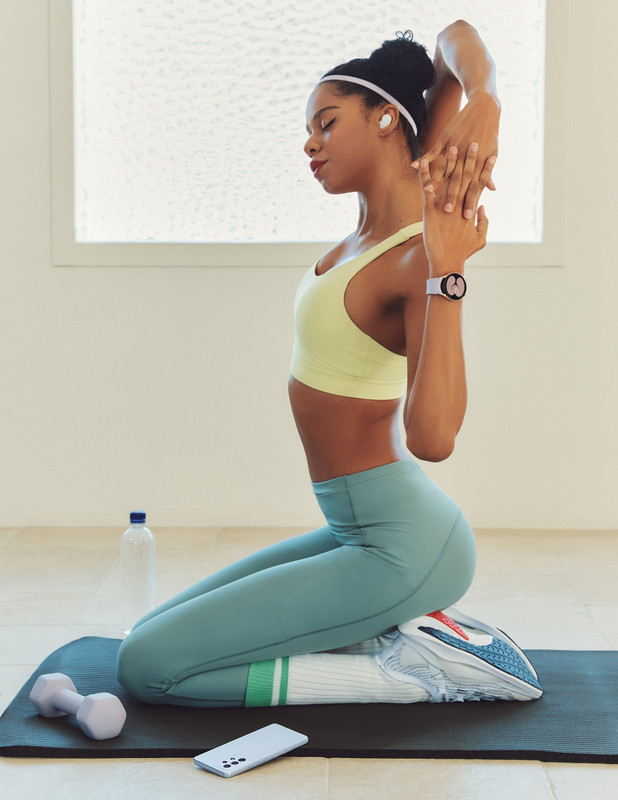 Health & Wellness – they're the buzzwords we hear a lot about these days, which many wish to have. To acquire good health and wellness is not tough. All that's needed is to have an in-depth understanding of your present wellbeing, lifestyle and desired goals, as well as a trusted personal wellness coach like the Samsung Health app to support and guide you there.
Offering a comprehensive suite of health management tools, from health index management to personalized coaching programmes and health community, Samsung Health makes pursuing health and wellness goals simple, enjoyable and connected. Plus, it is accessible across screens of every size, from your Galaxy wearables on wrist, to phone, to your smart TV. How convenient!
Find out how this holistic Samsung Health app can empower your journey towards a healthy lifestyle below.
Your Personal Health Coach Can Push You To…
1. Improve Overall Fitness by Reaching for Body Composition Target
As the Galaxy Watch5 Series is equipped with powerful Samsung BioActive sensors, particularly the Bioelectrical Impedance Analysis (BIA) sensor, you can instantly have a holistic picture of your body composition with just a single 15 seconds touch. Whether your ideal body goal is to bulk up or lose weight, having clear targets and strategies will help you see your desired results sooner. So, before you begin your fitness journey, set your specific body composition targets in Samsung Health app, such as higher muscle mass or lower body fat percentage. The app will then send daily motivational tips, follow-up reminders and achievement badges to keep you motivated.
2. Build Better Sleep Habits with Sleep Coaching Program
The overall quality of your sleep is just as important as the sleeping hours (quantity). By wearing the Galaxy Watch5 throughout the night, you can discover valuable insights on your patterns in each sleep stages and work towards refining your sleep hygiene. After analyzing your habits, Samsung Health will match you to an adorable Sleep Symbol animal that best represents you and customize a one-month Advanced Sleep Coaching program with daily missions for you – such as exercising, meditating, avoiding naps and more. Every bit of missions you complete will help you sleep your way and wake up on the right side of the bed.
3. Be Aware Of Your Lifestyle and Your Heart's Reactions To Them
The food you consume, the emotions you feel and the habits you do can have major impacts on your health, especially on the heart. The unhealthy lifestyle choices that herald the coming of heart diseases includes sleeping in late, being inactive, eating poorly and experiencing gloomy emotions. To encourage you to be aware of and evaluate your wellbeing, Samsung Health will continuously monitor your heart rate, blood oxygen, stress levels, food input and daily activities throughout the day. The app will alert you if any unhealthy habit or unusual symptoms are detected, and you may then take prompt actions to address them by engaging in mindfulness activities, fitness programs or group challenges.
4. Manage Women's Health
Here to support the women we all love in every step of their way, the Women's Health in Samsung Health, connected with Glow app, offers helpful support in menstrual cycle related symptom management and personalised insights and contents. Over time when Glow learns a user's cycle pattern, its predictions will become smarter and you can use the data to set reminder alarms for optimal time for health-related activities and take control of your reproductive health.
With Samsung Health app, you'll be continuously inspired to take good care of your body (eat well, sleep well, exercise more), find hobbies which give you a sense of purpose and connectedness, and be aware of your values by practicing frequent mindfulness.
Now, download the Samsung Health app and get yourself a Galaxy Wearable like the Galaxy Watch5 Series to start living healthy. Your body and mind will thank you for it.
Samsung Health app download link:
https://play.google.com/store/apps/details?id=com.sec.android.app.shealth&hl=en&gl=US
Learn more about the Galaxy Watch5 Series here:
• Galaxy Watch5 Pro: https://www.samsung.com/my/watches/galaxy-watch/galaxy-watch5-pro-black-titanium-bluetooth-sm-r920nzkaxme/buy/
• Galaxy Watch5: https://www.samsung.com/my/watches/galaxy-watch/galaxy-watch5-40mm-silver-bluetooth-sm-r900nzsaxme/buy/
PS, THERE'S AN AWESOME ONGOING DEAL FOR THE GALAXY WATCH5 SERIES!
Shop today to enjoy valuable rewards worth up to RM549!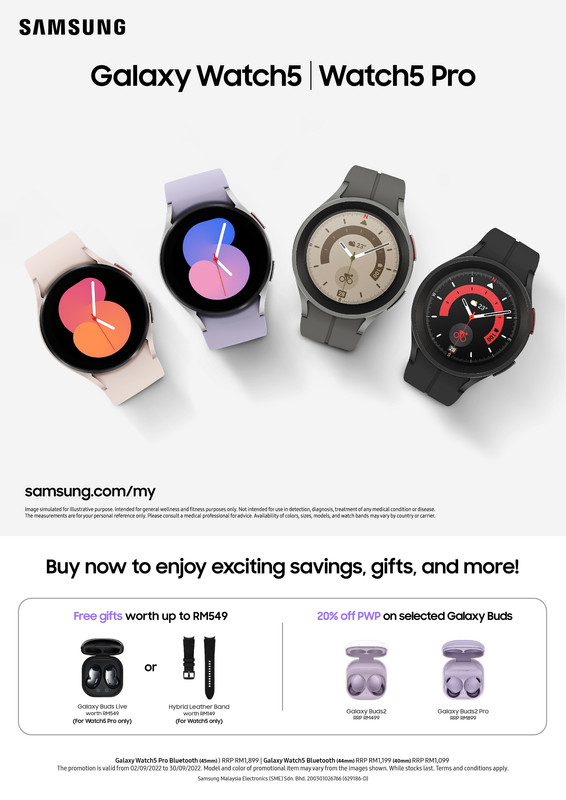 Product


Model



RRP



Colour Availability


Rewards[1]




Galaxy Watch5


Galaxy Watch5 Bluetooth (40mm)



RM1

,099


·  Graphite

·  Silver

·  Pink Gold



·  One complimentary Hybrid Leather Band (worth

RM149

)

·  20% OFF purchase with purchase on selected Galaxy Buds (Galaxy Buds Live, Galaxy Buds2, Galaxy Buds2 Pro)





Galaxy Watch5 Bluetooth (44mm)



RM1

,199


·  Graphite

·  Sapphire

·  Silver





Galaxy Watch5 Pro


Galaxy Watch5 Pro Bluetooth (45mm)



RM1

,899


·  Black Titanium

·  Gray Titanium



·  One complimentary Galaxy Buds Live (worth

RM549

)

·  20% OFF purchase with purchase on selected Galaxy Buds (Galaxy Buds Live, Galaxy Buds2, Galaxy Buds2 Pro)





[1]
Galaxy Watch5 Series' complementary gifts are on a first-come, first-served basis, while stocks last. Other terms and conditions may apply.